JOIN THE MOVEMENT
TAKE THE PLEDGE
Make sure to tag #RebelAgainstBullying so we can follow your Rebel heart!
There isn't a more direct way to promote something than by word of mouth; or so our marketing Rebels tell us. By sharing our content and messaging through social media, you can help us reach and inspire the next generation of Rebels.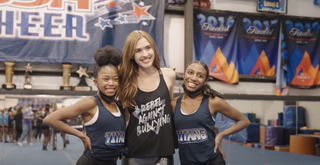 CONNECT WITH OTHERS
PRACTICE CRASHERS
Practice Crashers is an online mini-series produced by Rebellion Rising Productions, where cheerleaders and dancers from high schools around the nation get surprised and inspired when representatives from Rebel Athletic stop by during their practices to drop off swag and talk to the influencers of the school about the importance of being a leader and what it means to be a Rebel Against Bullying.
WANT US TO CRASH YOUR PRACTICE?
RESOURCES
Rebel Athletic and Rebel Against Bullying do not represent themselves as licensed psychologists or mental health professionals. If you or someone you know is seeking professional help, we encourage you to visit one of the resources below.
STOMP OUT BULLYING™
STOMP Out Bullying™ is the leading national nonprofit dedicated to changing the culture for all students. It works to reduce and prevent bullying, cyberbullying, sexting and other digital abuse, educates against homophobia, LGBTQ discrimination, racism and hatred, and deters violence in schools, online and in communities across the country. In this diverse world, STOMP Out Bullying promotes civility, inclusion and equality. It teaches effective solutions on how to respond to all forms of bullying, as well as educating kids and teens in school and online. It provides help for those in need and at risk of suicide, and raises awareness through peer mentoring programs in schools, public service announcements by noted celebrities, and social media campaigns.
PACER's national bullying prevention center
PACER's National Bullying Prevention Center actively leads social change, so that bullying is no longer considered an accepted childhood rite of passage. PACER provides innovative resources for students, parents, educators, and others, and recognizes bullying as a serious community issue that impacts education, physical and emotional health, and the safety and well-being of students.
STOPBULLYING.GOV
StopBullying.gov provides information from various government agencies on what bullying is, what cyberbullying is, who is at risk, and how you can prevent and respond to bullying.